A Home in Jackson Hole
Welcome to Our Valley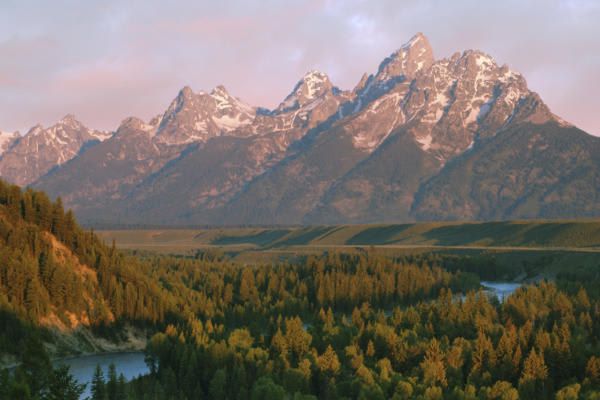 A patchwork of the protected national parks, national forests, and conservation easement land, Jackson Hole is a rare place, indeed. Only 3% of its lands are privately owned and developed. The lucky few who call the valley home find themselves perched directly within the vast Greater Yellowstone Ecosystem, which represents one of the last, and largest, intact ecosystems in the temperate zone.

The Tetons' dramatic and iconic shape is known as a "fault block." It was created 10 million years ago as igneous, metamorphic, and sedimentary rock rose upwards while the valley of Jackson Hole sank simultaneously. An early champion of the area, President Theodore Roosevelt, remarked that these are "what mountains are supposed to look like."

Jackson Hole is also a gateway to Yellowstone National Park, the nation's first National Park. It is surrounded by the Bridger-Teton National Forest as well as other mountain ranges, including the Gros Ventre and Wyoming Ranges. The Snake River, a pristine recreational haven, threads through the valley and is designated as a Wild and Scenic River by Congress. Within a short drive, alpine hiking, skiing, fly fishing, boating, and unlimited wildlife viewing make every day a new opportunity.

In its combination of gentle and sharp, lush and arid, ranchlands and resort sophistication, Jackson Hole is a place that defies words.




Uncompromising Lifestyle
The Jackson Hole lifestyle is shaped by the extraordinary landscape. Here, one can truly have it all: boundless outdoor space and views for miles without sacrificing the cosmopolitan culture and aesthetic of urban centers. The valley is more than a resort town. It's an eclectic place where western culture meets forward-thinking architects, artists, and extreme athletes.

Outdoor Recreation
Summers
Hiking, Mountain Biking, Camping, Rafting, Canoeing, Kayaking, Fly Fishing, Trail Riding, Road Biking, Climbing, Paragliding, Soaking in the Views
Winters
Alpine Skiing, Snowboarding, Backcountry Skiing, Snowmobiling, Dogsledding, Heli-skiing, Nordic Skiing, Sleigh Rides, Wildlife Viewing
Wildlife Watch
Deer, bison, elk, moose, fox, coyote, pronghorn, osprey, trumpeter swan, bald eagle, wolf, mountain lion, grizzly, and black bear
Ski Resorts
Dining
Whether you're dining out in downtown Jackson or at one of Teton Village's many award-winning eateries, Jackson Hole chefs are on the vanguard of creative and contemporary mountain cuisine. From sushi to relaxed breweries to five-star dining, every palate is accommodated.

Our Picks:
The beef tartare pizza at the Snake River Grill – best enjoyed from the cozy bar
Best pre-dinner drink – the blood orange margarita at Trio
Favorite pad thai is served at Teton Thai in Teton Village, WY
The Arts
A vibrant community offers a stimulating platform for artistic innovation and creativity. With live music venues and a plethora of touring acts, Jackson Hole offers an event for every day of the year.

Our Picks:
Golf & Sporting Clubs
The top golfing and sporting destinations of the West can be accessed within a 10-mile radius of downtown Jackson. Teton Pines, 3 Creek Ranch, the Golf & Tennis Club, Shooting Star, and the Snake River Sporting Club provide lots of options for new and established residents.

Retail
If you're in the market for locally sourced goods, fine homewares, gear, or apparel, Jackson Hole is an exciting retail destination in its own right.

Our Picks:
Rodeo – a sophisticated clothing boutique in Teton Village
STIO – stylish and high-performance outdoor wear that's also 100% local
Paper & Grace – a charming and eclectic shop for creative gifts
Town Amenities
Our Picks:
Spas & Wellness
Healthy habits are a way of life here ~yoga, conditioning, organic foods, spas, salons.

Our Picks:
Inversion Yoga - Try out hot yoga 75 on a cold winter day
Jairus Noble Salon - Cut and color
Frost Salon – Best mani/Pedi in town
Hike the "King" – A local favorite at 1,500 feet of elevation gain, this is a classic cardio workout that takes you straight from downtown into National Forest territory


Wyoming's Financial Benefits
For doing business, owning property, and retirement, Wyoming offers one of the most favorable tax climates in the nation. This claim is backed up by Bloomberg Wealth Manager, which names the state its "Most Tax-Friendly."

Top Benefits
No state income tax:
No state tax on personal or corporate income.
Dynasty trusts:
In Wyoming, you can shield your real estate from federal estate taxes for up to 1,000 years through a dynasty trust. You can establish a trust in Wyoming for the benefit of your family or other beneficiaries. You can transfer your real estate into a limited liability company or family partnership and then put that into the "dynasty trust," which can continue for a thousand years. As a result, multiple generations can make use of and enjoy the property, without having to pay estate taxes or worse, sell the property in order to pay the taxes. A key point to remember: The trust must be administered in Wyoming.
No inheritance tax or estate tax:
Wyoming repealed its estate tax as of January 1, 2005.
No state gift tax:
A property owner in Wyoming can "gift" that real estate to his/her heirs without paying a state gift tax.
No tax on out-of-state retirement income:
Homeowners in Jackson Hole who use Wyoming as a second home may have retirement income that comes from other states where they are a resident. Wyoming doesn't tax retirement income earned outside of Wyoming.
Low property taxes:
Wyoming has very low property taxes compared to other states. The taxes homeowners pay here are based on the assessed value of the property. For Teton County, the rate is 1.2% of a property's assessed value. The rate for the city of Jackson is 8/10 of 1%.
No excise sales taxes:
When you fill-up your car's gas tank or buy a bag of groceries in Wyoming, you won't pay any state tax on your gas or food.
No tax on mineral ownership:
Many states charge owners a tax on their mineral ownership, but Wyoming does not.
No intangible taxes:
Wyoming does not tax financial assets like stocks and bonds.
No tax on the sale of real estate.
Learn more about Wyoming's tax-friendly status from the Wyoming Business Council.

Community Links & General Resources
This is just a small sampling of the ways our community brings people together through excellence in education, philanthropy, and environmental awareness.




Schools
Conservation & Philanthropy
Community Events
Hospital
Jackson Hole Airport
Real Estate Services
Climate
Town
Recreation
Webcams